The Exquisite Corpse In Maggots' Keep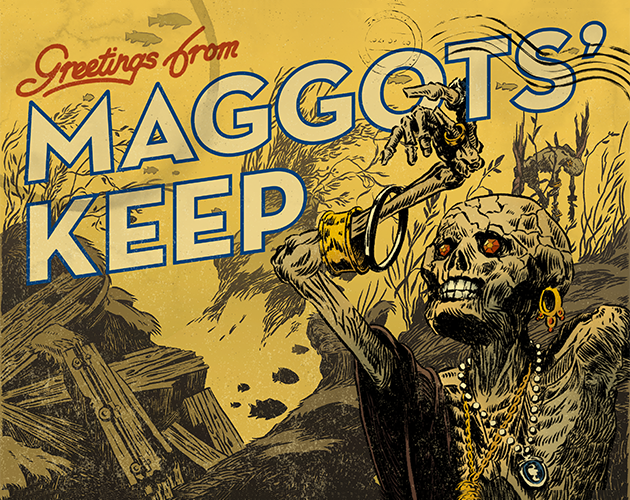 We cannot lie to you, best beloved. Though you may avoid us, there is no escape.
We're in the walls and behind your eyes. We carved every inch of these tunnels and we've seen all that goes on inside them.
Centuries of cities and strangers and frightful, ugly sights. We'd spare you from it if we could, but then maybe you are the adventuring kind after all.
Just remember, no matter where you go, you belong to us. Whether you wait or whether you run, we will find you.
You're in the Maggots' Keep now. And that's forever.
Exquisite Corpse is a method by which a collection of words or images is collectively assembled. Each collaborator adds to a composition in sequence, either by following a rule or by being allowed to see only the end of what the previous person contributed.
THE EXQUISITE CORPSE IN MAGGOTS' KEEP is a full-length, illustrated gamebook in which you play a beautiful skeleton festooned in jewelry newly awakened inside a deep, mysterious cavern. On your adventures you'll travel to underground cities, catacombs, spires, and gambling parlors all while meeting fish-people, legislative crabs, and insects with dubious goals. The choices you make on this adventure will weave from writer to writer, each with their own characters, decision paths, and endings. It's a gamebook where your choices change the style, tone, and direction of the entire book, a short story collection by way of dvd menu, and as close to the feeling of hearing a bunch of friends take turns telling stories around a campfire as gamebook will ever make you feel.
Created by Gabriel Komisar, Illustrated by JN Butler, and written by old faces and new within the Sandy Pug Co-Op.
Purchase
In order to download this book you must purchase it at or above the minimum price of $25 USD. You will get access to the following files:
The Exquisite Corpse in Maggots' Keep.pdf
44 MB
The Exquisite Corpse in Maggots' Keep - Smol.pdf
13 MB
Hosted Twine Access.txt
125 bytes
Exclusive content
Support this book at or above a special price point to receive something exclusive.
Physical Edition - Preorder
Preorder the physical edition of the book. Includes PDF and twine editions. Price includes continental US shipping.
Canadian buyers should add an additional $15, and the rest of you should add $25.
Comments
Log in with itch.io to leave a comment.
PDF hyperlinks don't work just yet but are coming soon!