Disposable Heroes
Disposable Heroes is a fast paced tabletop RPG set in a near-future fantasy world city named Neo-Francisco. You play as package delivery people with incredible abilities, doing their best to survive and get that 5 Star rating that means they can eat that week.
At the start of the game, players get at least one card from a deck - each card is a Disposable Hero, a character with an ability, a weapon, stats and an animal. Players roleplay as this character until they take any form of damage, then that character is discarded, and a new one drawn from a deck. The deck contains over 60 cards, ranging from the Badger Fighter to the Soul Tamer Elephant.
Visually the game is reminiscent of Jet Set Radio and Lethal League, with a funky electro-funk art style, and a high energy gameplay.

The game is based on the Powered by the Apocalypse system, specifically the Dungeon World edition of it, but deviates extensively from that core. You can find the base rules, and lore, at https://disposableheroes.sandypuggames.com/
Disposable Heroes was funded on Kickstarter!
Check out this free Tabletop Sim version by our pal Nova! - https://steamcommunity.com/sharedfiles/filedetails/?id=2290834844
Exclusive content
Get exclusive access to this game by purchasing while quantities last.
Print and Play
Get the print and play edition! Includes a bunch of extras like templates and art assets so you can build your very own Disposable Heroes!
PDF + Stickers!
Get a grab bag of 5 Disposable Heroes stickers with your digital download of Disposable Heroes!
Core Game
Grab a copy of the physical game, including a grab bag of 5 Disposable Heroes stickers!
Price includes domestic shipping in the US. Non-US buyers please contact me before ordering.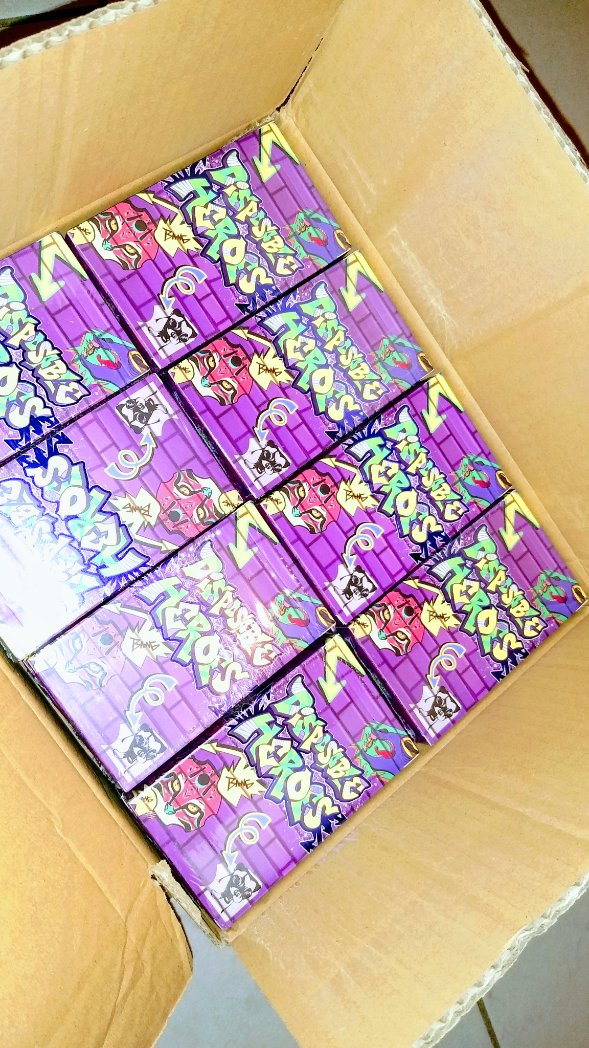 Signed Copy
Get a copy of the game signed by the lead designer and artist, Ren. Copies are shipping now! Price includes domestic shipping in the US. Non-US buyers please contact me before ordering.
You will get access to the following files:
Disposable Heroes.zip
254 MB
Comments
Log in with itch.io to leave a comment.
How many players is this game?
You only really need a GM and at least one player. Some cards will reference other characters, but there are rules for players having more than one character. I've ran it with like 14 players once at a con and it was wild but functional, especially with how rapid fire the turnover can be.
Hi, I would like to have the physical game shipped to France. Is it possible?
Yes! Shipping is just a little expensive, roughly $15 iirc. If you purchase a core game and add that to the amount as a tip I can have one in the mailbox first thing Monday!